Last Saturday, I did a "Just One Thing" item for a musical theater actress. She wanted an eyebrow change, her having done what most of us did when we were young, which was to LOL pluck everything up. I showed her how to get a real brow back, and she loved it enough to come for a consultation. Here we were, doing the brow thing:

Her name is April, and she needs an innocent look for a ca 1912 musical, but she also wanted to know other things in the actor's skill set: high-def tv…video and live audition and headshot makeup…small-stage theater makeup. She wanted to work up from the required vintage natural look to contemporary-natural, to business, to fun out on the town…the town being New York, where she's soon auditioning.
We could've just gone with the available black mascara, but no: she has a soft look, and I didn't want her to look like bold, black lashes followed by the rest of her; one of my makeup pet peeves. We'll wait on mascara, or she can use some make-do brand in the meanwhile, until "just the right brown" is available.
You want to see someone "youthen" before your eyes?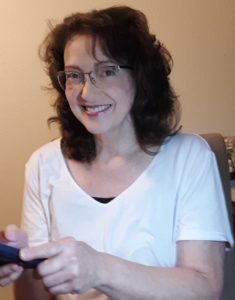 And how many years younger does she look?
I'm saying a good twenty:
At conclusion, she looked up with the brightest smile and said, "I can do it!"…and of course she can.
She has the talent, and now she has the tools.